This project has been funded with support from the European Commission. This material reflects the views only of the author, and the Commission cannot be held responsible for any use which may be made of the information contained therein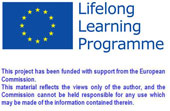 Dissemination
DISSEMINATION REPORT
Partners:
Kaunas University of Technology
Name of the person involved in the event:
Sigitas Drąsutis
Date of the event:
30 November 2011
Type of Dissemination event:
Informative Mailing
Description of Dissemination Event:
2 schools (Kėdainiai Youth school, Kėdainiai Mikalojus Daukša secondary schools) were invited to participate in project activities and emails were sent to the principals of these schools. pakviestos dalyvauti m-klos ir direktoriams išsiųsta informacija apie projektą el. paštu. Also information was sent to Šilutė primary school. The vice-principal found information about the project in a portal www.emokykla.lt and contacted us because she wants to join our project.
Target group:
Schools
Number of people reached by event:
9
Held in:
Kaunas, Lithuania
Outcomes and Results:
More people were acknowledged with the project and it's importance.
Dissemination activities are starting to show results (school contacted us because she found project advertisement in the internet).
Supporting Documents: