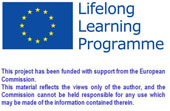 "I Am Not Scared" Project
Homepage > Database > Publication List
Database
TITLE OF DOCUMENT
:
Violence at school in French Community : the researcher's look
NAME OF AUTHOR(S)
:
UCL (Catholic University of Louvain), GIRSEF (Interdisciplinary Group for the Research on Education and Training Socialisation)
NAME OF PUBLISHER
:
GIRSEF, Belgium
LANGUAGE OF DOCUMENT
:
French
LANGUAGE OF THE REVIEW
:
English
DOCUMENT TYPOLOGY
:
Web Article
TARGET GROUP OF PUBLICATION
:
Parents, Policy Makers, Teachers, Researchers, Young People, School Directors.

SIZE OF THE PUBLICATION
:
Not relevant
DESCRIPTION OF CONTENTS
:
A portal to find out what research teaches us about violence phenomena at school.
REVIEWER'S COMMENTS ON THE DOCUMENT
:
Information and public awareness website, from university researches.
NAME OF THE REVIEWING ORGANISATION
:
INFOREF
I Am Not Scared Project
Copyright 2022 - This project has been funded with support from the European Commission
Webmaster: Pinzani.it