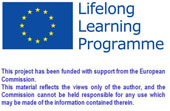 "I Am Not Scared" Project
Homepage > Database > Publication List
Database
TITLE OF DOCUMENT
:
Stop – Violența intrafamilială
NAME OF AUTHOR(S)
:
Popa Jana
LANGUAGE OF DOCUMENT
:
Romanian
LANGUAGE OF THE REVIEW
:
Romanian
KEYWORDS
:
Violență, violență familială
DOCUMENT TYPOLOGY
:
Research
TARGET GROUP OF PUBLICATION
:
Parents, Teachers, School Directors.

SIZE OF THE PUBLICATION
:
1 - 20 pages
DESCRIPTION OF CONTENTS
:
Studiu referitor la violenta intrafamiliala, realizat de profesor Jana Popa, Colegiul Dorin Pavel, Alba Iulia.
În prima parte autoarea face câteva delimitări conceptuale. În partea a doua tratează cauzele care duc la apariția unui astfel de fenomen. În continuare autoarea vorbește despre influențele pe care le are violența asupra copiilor și rolul diferitelor instituții în această problemă.

REVIEWER'S COMMENTS ON THE DOCUMENT
:
Acest demers de cercetare are o importanță deosebită deoarece prezintă influențele culturii românești asupra practicii educaționale, și mai important decât atât asupra modului de comportare a părinților față de copiii lor.
NAME OF THE REVIEWING ORGANISATION
:
EuroEd Foundation
I Am Not Scared Project
Copyright 2023 - This project has been funded with support from the European Commission
Webmaster: Pinzani.it