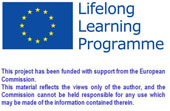 "I Am Not Scared" Project
Homepage > Database > Publication List
Database
TITLE OF DOCUMENT
:
Mijloace de combatere a violentei scolare cauzate de televiziune
NAME OF AUTHOR(S)
:
Famouswhy.ro
NAME OF PUBLISHER
:
Famouswhy.ro
LANGUAGE OF DOCUMENT
:
Romanian
LANGUAGE OF THE REVIEW
:
Romanian
KEYWORDS
:
Combaterea violenței școlare cauzată de televiziune
DOCUMENT TYPOLOGY
:
Web Article
TARGET GROUP OF PUBLICATION
:
Parents, Teachers, School Directors.

SIZE OF THE PUBLICATION
:
1 - 20 pages
DESCRIPTION OF CONTENTS
:
Creșterea fără precedent a cazurilor de violență din școli este un motiv de îngrijorare pentru toți factorii educativi.
Cheia care stă la baza contracarării efectelor negative produse de televizor este colaborarea învățătorilor cu familiile elevilor. În articol se detaliază această perspectivă. Învățătorul va afla care sunt motivele pentru care membrii familiei se uită la TV. Va face diferența între motivele de lungă durată și cele momentane. Părinții vor fi sfătuiți în privința rolului TV în viața de zi cu zi a copilului.

REVIEWER'S COMMENTS ON THE DOCUMENT
:
Importanța acestui material este dată de faptul că tratează o singură parte a problemei violenței, și anume rolul televiziunii. În prim plan sunt aduși învățătorii prin relația pe care ar trebui să o dezvolte cu familiile elevilor.
Cadrul didactic trebuie să acționeze pentru combaterea efectelor negative alr televizorului asupra comportamentului elevilor și prin educarea acestora în spiritul prieteniei și a toleranței.

NAME OF THE REVIEWING ORGANISATION
:
EuroEd Foundation
I Am Not Scared Project
Copyright 2023 - This project has been funded with support from the European Commission
Webmaster: Pinzani.it