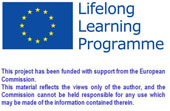 "I Am Not Scared" Project
Homepage > Database > Publication List
Database
TITLE OF DOCUMENT
:
De ce apare violenta in scoala?
NAME OF AUTHOR(S)
:
Echipa Intuitext
NAME OF PUBLISHER
:
Suntparinte.ro
LANGUAGE OF DOCUMENT
:
Romanian
LANGUAGE OF THE REVIEW
:
Romanian
KEYWORDS
:
Violența în școală
DOCUMENT TYPOLOGY
:
Web Article
TARGET GROUP OF PUBLICATION
:
Parents, Teachers, School Directors.

SIZE OF THE PUBLICATION
:
1 - 20 pages
DESCRIPTION OF CONTENTS
:
În cuprinsul acestui articol se încearcă să se găsească cauza care duce la apariția violenței în mediul școlar.
Cauza acestui comportament violent se regăsește în principal în mediile în care copilul își petrece majoritatea timpului: cel familial și social. Alături de acestea se pot acuza și anumite schimbări de la nivel biologic.
Articolul se termină cu câteva sfaturi practice prin care părinții își pot proteja copiii pentru ca aceștia să nu ajungă victime ale violenței.

REVIEWER'S COMMENTS ON THE DOCUMENT
:
Scoala este un loc unde se realizeaza procesele de predare-invatare, dar este si sediul formarii unor valori, atitudini si comportamente. Primele relatii sociale mai complexe se formeaza aici; primele modele de comportament si conduita sunt invatate de la profesori si de la colegii de clasa. Dezvoltarea afectiva, comportamentala, sociala, dar si dezvoltarea normelor si a valorilor morale sunt influentate si modelate de experienta pe care copiii o dobandesc din acest spatiu de-a lungul anilor.
NAME OF THE REVIEWING ORGANISATION
:
EuroEd Foundation
I Am Not Scared Project
Copyright 2023 - This project has been funded with support from the European Commission
Webmaster: Pinzani.it