This project has been funded with support from the European Commission. This material reflects the views only of the author, and the Commission cannot be held responsible for any use which may be made of the information contained therein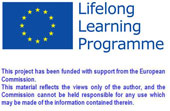 Dissemination
DISSEMINATION REPORT
Partners:
Zinev Art Technologies
Name of the person involved in the event:
Zornitsa Staneva
Date of the event:
17 February 2011 - 17 February 2011
Type of Dissemination event:
Press-conference
Description of Dissemination Event:
The "I am not scared" project was presented during a press-conference in the town of Kostinbrod organized for media from the Kostinbrod Municipality and having as an objective to present the future activities of Local action group - Kostinbrod. The objectives of the "I am not scared" project were briefly presented, including the intention of LAG Kostinbrod to support the project on the territory it covers.
Target group:
Media representatives
Number of people reached by event:
8
Held in:
Kostinbrod, Bulgaria
Outcomes and Results:
The project objectives and ideas were presented to the media covering news and disseminating information for the region of Kostinbrod Municipality.
Supporting Documents: