This project has been funded with support from the European Commission. This material reflects the views only of the author, and the Commission cannot be held responsible for any use which may be made of the information contained therein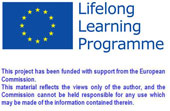 Dissemination
DISSEMINATION REPORT
Partners:
Kaunas University of Technology
Name of the person involved in the event:
Sigitas Drąsutis
Date of the event:
09 January 2012
Type of Dissemination event:
National Meeting
Description of Dissemination Event:
Meeting with Chairman of Lithuanian School Parliament - Paulius Kazakevicius. Agreement to join the project and sign the documents.
Target group:
Lithuanian School Parliament.
Number of people reached by event:
3
Held in:
Vilnius, Lithuania
Outcomes and Results:
Supporting Documents: