This project has been funded with support from the European Commission. This material reflects the views only of the author, and the Commission cannot be held responsible for any use which may be made of the information contained therein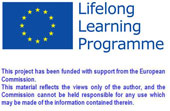 Dissemination
DISSEMINATION REPORT
Partners:
School of Pedagogical and Technological Education ASPETE
Name of the person involved in the event:
Christina Pantazakou
Date of the event:
27 September 2012 - 27 September 2012
Type of Dissemination event:
Article on website
Description of Dissemination Event:
An article regarding the project was published at the website of an online newspaper (http://www.nafpaktianews.gr). A brief description of the project was presented (target, actions teaken, results, etc), as well as the project web page eas also mentioned.
Target group:
Number of people reached by event:
N/A
Held in:
N/A
Outcomes and Results:
To become wide known.
Supporting Documents: