This project has been funded with support from the European Commission. This material reflects the views only of the author, and the Commission cannot be held responsible for any use which may be made of the information contained therein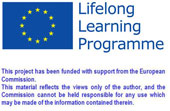 The "I am not scared" Project
The bullying phenomenon is a main challenge, that all European educational systems have to deal with.

In this context the European Commission has financed the "I Am Not Scared" project in the framework of the Lifelong Learning Programme (KA1 Policy Cooperation and Innovation).

The "I Am Not Scared" project intends to identify the best European strategies to prevent and combat the bullying phenomenon. The purpose of the project is to involve vocational education teachers, directors, pupils, parents, counsellors and key policy makers in the field of education in a common reflection on the issue related to school violence.

The project is based on a bottom-up approach for a transnational sharing of the dynamics that can cause the emerging and consolidating of the bullying phenomenon and of the most effective strategies to tackle it.