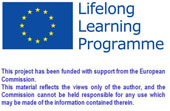 "I Am Not Scared" Project
Homepage > Database > Publication List
Database
TITLE OF DOCUMENT
:
"Savigarba: kelias į sėkmę ir meilę"
NAME OF AUTHOR(S)
:
Frieda Porat
NAME OF PUBLISHER
:
"Menta", 1991
LANGUAGE OF DOCUMENT
:
Lithuanian
LANGUAGE OF THE REVIEW
:
Lithuanian
KEYWORDS
:
Savigarba, bendravimas, ugdymas
TARGET GROUP OF PUBLICATION
:
Parents, Teachers, Young People.

SIZE OF THE PUBLICATION
:
Over 100 pages
DESCRIPTION OF CONTENTS
:
Knygoje pateikiami svarbūs duomenys apie dvi esmines žmogaus gyvenimo sritis - darbą ir meilę. Pasiekimas šioje srityse - ne tik psichinės sveikatos laidas, bet ir laimės bei gyvybingumo esmė. Knygoje siūloma daugybė išsivadavimo iš žlungdančios žmogaus asmenybę priklausomybės, vergavimo kitiems kelių. Autorė pateikia kaip geriau pažinti save, priimti save, gerbti save, ginti savo teises, kaip padėti kenčiančiam žmogui išmokti pagelbėti pačiam sau.
NAME OF THE REVIEWING ORGANISATION
:
Tito Masiulio jaunimo mokykla
I Am Not Scared Project
Copyright 2022 - This project has been funded with support from the European Commission
Webmaster: Pinzani.it