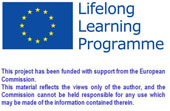 "I Am Not Scared" Project
Homepage > Database > Publication List
Database
TITLE OF DOCUMENT
:
Students with problem ? school with solution ?
NAME OF AUTHOR(S)
:
Cécile Delannoy
NAME OF PUBLISHER
:
EME Editions Sociales Françaises (ESF) (12 janvier 2000) Collection : Pedago Recherch ISBN-10: 2710114003 ISBN-13: 978-2710114000
LANGUAGE OF DOCUMENT
:
French
LANGUAGE OF THE REVIEW
:
English
KEYWORDS
:
bullying,violence
TARGET GROUP OF PUBLICATION
:
Parents, Policy Makers, Teachers, Researchers, Young People, School Directors.

SIZE OF THE PUBLICATION
:
Over 100 pages
DESCRIPTION OF CONTENTS
:
Thanks to this work, you will find some viewpoints and reflexion tracks for a future reform of the education.
REVIEWER'S COMMENTS ON THE DOCUMENT
:
Stimulating work, for all convinced people that in front of the school failure, noone can make no economy, initiative and responsibility.
NAME OF THE REVIEWING ORGANISATION
:
INFOREF
I Am Not Scared Project
Copyright 2022 - This project has been funded with support from the European Commission
Webmaster: Pinzani.it