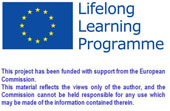 "I Am Not Scared" Project
Homepage > Database > Publication List
Database
TITLE OF DOCUMENT
:
A portal to report school violence
NAME OF PUBLISHER
:
La Libre Belgique – 12th January 2011
LANGUAGE OF DOCUMENT
:
French
LANGUAGE OF THE REVIEW
:
English
KEYWORDS
:
Portal, freephone service, observatory
DOCUMENT TYPOLOGY
:
Newspaper / Magazine article
TARGET GROUP OF PUBLICATION
:
Parents, Policy Makers, Teachers, Researchers, Young People, School Directors.

SIZE OF THE PUBLICATION
:
1 - 20 pages
DESCRIPTION OF CONTENTS
:
All facts of violence the schools are confronted with will be reported on this portal still on work.
Other measures have also been taken in the framework of the fight against violence: the freephone service aimed to direct the schools towards help services as well as the implementation of an Observatory of violence.

NAME OF THE REVIEWING ORGANISATION
:
INFOREF
I Am Not Scared Project
Copyright 2022 - This project has been funded with support from the European Commission
Webmaster: Pinzani.it