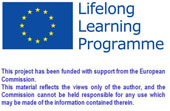 "I Am Not Scared" Project
Homepage > Database > Publication List
Database
NAME OF AUTHOR(S)
:
Ironcalimero - nickname
NAME OF PUBLISHER
:
youtube
LANGUAGE OF DOCUMENT
:
French
LANGUAGE OF THE REVIEW
:
English
KEYWORDS
:
bullying,aggression,call of help,desperation
TARGET GROUP OF PUBLICATION
:
Parents, Policy Makers, Teachers, Researchers, Young People, School Directors.

SIZE OF THE PUBLICATION
:
Not relevant
DESCRIPTION OF CONTENTS
:
This story is a fiction, but it is inspirated from real facts.
This desperated teenage, having no help, died by one's own hand.

REVIEWER'S COMMENTS ON THE DOCUMENT
:
This video on youtube shows a bullying with no mercy for some who cannot find help.
Unfortunately, the bullyers know how to hide them among the others, we must stand at attention and detect sooner the basis of the problem.

NAME OF THE REVIEWING ORGANISATION
:
INFOREF
I Am Not Scared Project
Copyright 2022 - This project has been funded with support from the European Commission
Webmaster: Pinzani.it