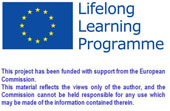 "I Am Not Scared" Project
Homepage > Database > Publication List
Database
TITLE OF DOCUMENT
:
Watch out! There is aggressiveness and bullying among teenagers
NAME OF AUTHOR(S)
:
Lazzarin M.G.
NAME OF PUBLISHER
:
Armando Editore
LANGUAGE OF DOCUMENT
:
Italian
LANGUAGE OF THE REVIEW
:
English
KEYWORDS
:
Strategies – cartoons – tips – good practices – counseling
TARGET GROUP OF PUBLICATION
:
Parents, Teachers, Young People, School Directors.

SIZE OF THE PUBLICATION
:
21 - 100 pages
DESCRIPTION OF CONTENTS
:
The writer deals with the problem of bullying using a narrative approach and conveys the idea of tension and violence experienced by adolescents. After this introduction, a set of psychological, pedagogical and sociological questions can raise. Stories of abuse and cruelty, stories that make people speak and pay attention to adolescent difficulties. How is it possible that students could hate other people and cause harm to them?

There are cartoons and episodes that attract readers and convey a simple and clear message expressed according to the point of view of the characters involved and focus on the features of the group and of the phenomenon and on the strategies that both individuals and the society have to adopt in order to face it effectively.

The text is particularly addressed to teachers and parents, and includes tips and suggestions that make the reader be attentive and capable of understanding the problem.
Maria Giovanna Lazzarin is a teacher specialized in Group learning and is expert in bullying and counseling at school. About these topics she wrote the following publications: Pratiche didattiche per prevenire il bullismo a scuola (2004) (didactical strategies to prevent school bullying – 2004) e Lo spazio ascolto a scuola. Un'esperienza di ricerca-azione (2005) (Listening at school, An action research experience - 2005).

REVIEWER'S COMMENTS ON THE DOCUMENT
:
The text includes an accurate research against crimes and abuse that the Research Institute located in Veneto region led in all types of school together with a series of meaningful strategies to prevent and reduce school bullying. The aim is to disseminate the practices experienced in the project on a national scale, giving advice about how to adopt them autonomously in each school. The text is addressed to teachers and socio-educational experts and focuses on the main good practices that enable teenagers to become more responsible, helpful and to develop their listening skills.
NAME OF THE REVIEWING ORGANISATION
:
don Milani
I Am Not Scared Project
Copyright 2022 - This project has been funded with support from the European Commission
Webmaster: Pinzani.it