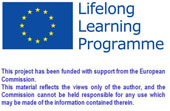 "I Am Not Scared" Project
Homepage > Database > Publication List
Database
TITLE OF DOCUMENT
:
Combaterea violenței în școli
NAME OF AUTHOR(S)
:
Constantin Nechifor
LANGUAGE OF DOCUMENT
:
Romanian
LANGUAGE OF THE REVIEW
:
Romanian
KEYWORDS
:
Violența în școli
TARGET GROUP OF PUBLICATION
:
Presentation.

SIZE OF THE PUBLICATION
:
21 - 100 pages
DESCRIPTION OF CONTENTS
:
În prezentarea de față autorul tratează problema combaterii violenței școlare. În acest scop autorul începe prin explicarea unor concepte cheie: agresivitate, violență, educație și comunicare. În continuare insistă pe cauzele psihologice ale comportamentelor violente și necesitatea dezvoltării inteligenței emoționale. În ultima parte a prezentării se focusează asupra educației "prin calculator" și psihopatologizarea vieții copiilor și adolescenților.
REVIEWER'S COMMENTS ON THE DOCUMENT
:
În cuprinsul acestei prezentări autorul militează pentru o mai bună comunicare între școală, elevi și părinți ca mijloc de de rezolvare a problemei violenței școlare. Materialul a fost realizat de Constantin Nechifor, consultant în cadrul proiectului Tinerii împotriva violenței, cadru universitar al Universității Petre Andrei din Iași.
NAME OF THE REVIEWING ORGANISATION
:
EuroEd Foundation
I Am Not Scared Project
Copyright 2023 - This project has been funded with support from the European Commission
Webmaster: Pinzani.it