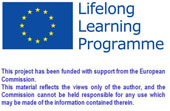 "I Am Not Scared" Project
Homepage > Database > Publication List
Database
TITLE OF DOCUMENT
:
Stop – Violența intrafamilială
NAME OF AUTHOR(S)
:
Popa Jana
LANGUAGE OF DOCUMENT
:
Romanian
LANGUAGE OF THE REVIEW
:
English
KEYWORDS
:
Violence, violence within the family
DOCUMENT TYPOLOGY
:
Research
TARGET GROUP OF PUBLICATION
:
Parents, Teachers, School Directors.

SIZE OF THE PUBLICATION
:
1 - 20 pages
DESCRIPTION OF CONTENTS
:
Study on family violence conducted by proffesor Jana Popa, Dorin Paul College, Alba Iulia.
In the first part the author makes some conceptual delimitations. The second part deals with the causes that give rise to such a phenomenon. After that the author talks about the influence that violence has on children and the role of various institutions in thsi matter.

REVIEWER'S COMMENTS ON THE DOCUMENT
:
This research approach is particularly important because it shows the Romanian culture influences on the educational practice, and more importantly on the behavior of parents towards their children.
NAME OF THE REVIEWING ORGANISATION
:
EuroEd Foundation
I Am Not Scared Project
Copyright 2023 - This project has been funded with support from the European Commission
Webmaster: Pinzani.it