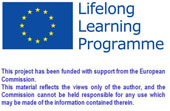 "I Am Not Scared" Project
Homepage > Database > Publication List
Database
TITLE OF DOCUMENT
:
Utiliser l'A.T. pour comprendre et guérir les effets du harcèlement chez les enfants
NAME OF AUTHOR(S)
:
Nathalie Goursolas Bogren
NAME OF PUBLISHER
:
Editions A.T. (Editions d'Analyse Transactionnelle) - 2010 Actualités en analyse tansactionnelle n°134
LANGUAGE OF DOCUMENT
:
French
LANGUAGE OF THE REVIEW
:
French
KEYWORDS
:
Analyse transactionnelle, jeu de pouvoir, étapes d'intervention, repères
DOCUMENT TYPOLOGY
:
Web Article
TARGET GROUP OF PUBLICATION
:
Parents, Policy Makers, Teachers, Researchers, Young People, School Directors.

SIZE OF THE PUBLICATION
:
1 - 20 pages
DESCRIPTION OF CONTENTS
:
L'auteur utilise les concepts transactionnalistes, en particulier celui de jeu de pouvoir, pour définir avec clarté le phénomène du harcèlement et décrire les processus en oeuvre.
Ses étapes d'interventions proposent des repères afin d'accompagner les enfants harcelés et leur famille à sortir d'une spirale délétère.

NAME OF THE REVIEWING ORGANISATION
:
INFOREF
I Am Not Scared Project
Copyright 2022 - This project has been funded with support from the European Commission
Webmaster: Pinzani.it