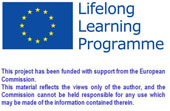 "I Am Not Scared" Project
Homepage > Database > Publication List
Database
TITLE OF DOCUMENT
:
Using T.A. to understand and to cure bullying effects on children
NAME OF AUTHOR(S)
:
Nathalie Goursolas Bogren
NAME OF PUBLISHER
:
Editions A.T. (Transactional Analysis) - 2010 T.A. News n°134
LANGUAGE OF DOCUMENT
:
French
LANGUAGE OF THE REVIEW
:
English
KEYWORDS
:
Transactional analysis, power game, intervention steps, spots
DOCUMENT TYPOLOGY
:
Web Article
TARGET GROUP OF PUBLICATION
:
Parents, Policy Makers, Teachers, Researchers, Young People, School Directors.

SIZE OF THE PUBLICATION
:
1 - 20 pages
DESCRIPTION OF CONTENTS
:
The authors uses transactional concepts, in particular the one of the power game, in order to clearly define the bullying phenomenon and to describe the processes implemented.
His intervention steps propose spots in order to support the bullied children and their family to get out of this pernicious spiral.

NAME OF THE REVIEWING ORGANISATION
:
INFOREF
I Am Not Scared Project
Copyright 2023 - This project has been funded with support from the European Commission
Webmaster: Pinzani.it