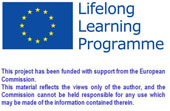 "I Am Not Scared" Project
Homepage > Database > Publication List
Database
TITLE OF DOCUMENT
:
Pykšt, pokšt – tu negyvas
NAME OF AUTHOR(S)
:
Guy Ferland
LANGUAGE OF DOCUMENT
:
Lithuanian
LANGUAGE OF THE REVIEW
:
Lithuanian
KEYWORDS
:
vaikai, smurtas, patyčios
DOCUMENT TYPOLOGY
:
DVD filmas
TARGET GROUP OF PUBLICATION
:
Parents, Teachers, Young People.

SIZE OF THE PUBLICATION
:
Not relevant
DESCRIPTION OF CONTENTS
:
Trevoras Adamsas buvo mokyklos pirmūnas, tačiau jo nelabai mėgo klasės draugai. Jis, norėdamas atkeršyti nekenčiamai mokyklos futbolo komandai, pagrasino susprogdinti mokykloje bombą. Dabar visi jį stebi su baime ir pasibjaurėjimu. Jis jaučiasi dar vienišesnis. Tačiau jo bijo mokytojai ir tėvai, o mokyklos chuliganai ima juo žavėtis. Mokykloje tik naujokė Dženi ir mokytojas Vuolas Dunkanas stengiasi berniuką suprasti ir jam padėti. Vaikinas svajoja tapti kinematografininku. Jis prašo mokytojo Dunkano padėti kuriant pirmą filmą, o mokytojas siūlo Trevorui dalyvauti vaidinime. Tačiau nežinia, ar šis spektaklis išvys sceną, nes tema ir aktoriai labai nepatinka mokyklos vadovams.
WHERE TO FIND IT
:
www.filmai.in/2775-pykst-pokst-tu-negyvas-bang-bang-you-re-dead-2002.html
NAME OF THE REVIEWING ORGANISATION
:
Kauno J. Grušo meno vidurinė mokykla
I Am Not Scared Project
Copyright 2023 - This project has been funded with support from the European Commission
Webmaster: Pinzani.it