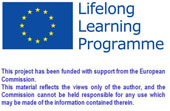 "I Am Not Scared" Project
Homepage > Database > Publication List
Database
TITLE OF DOCUMENT
:
Bulli e prepotenti nella scuola. Prevenzioni e tecniche educative.
NAME OF AUTHOR(S)
:
Sharp S.
NAME OF PUBLISHER
:
Centro Studi Erickson
LANGUAGE OF DOCUMENT
:
Italian
LANGUAGE OF THE REVIEW
:
Italian
KEYWORDS
:
Psicologia – educazione – buone pratiche – adolescenti - scuola
TARGET GROUP OF PUBLICATION
:
Parents, Policy Makers, Teachers, Researchers, Young People, School Directors.

SIZE OF THE PUBLICATION
:
Over 100 pages
DESCRIPTION OF CONTENTS
:
Il volume illustra una serie di strategie operative per affrontare il bullismo nella scuola. Esso fornisce informazioni sulla natura delle angherie tra compagni; descrive alcune tecniche di analisi del fenomeno; spiega come programmare un adeguato screening; presenta una politica globale per contenere e smorzare il bullismo; esamina infine nel dettaglio un'ampia gamma di interventi orientati a particolari ambiti della vita scolastica.
REVIEWER'S COMMENTS ON THE DOCUMENT
:
Soprattutto per chi opera nel campo dell'educazione, l'autore offre una serie di esempi di pratiche per la prevenzione del fenomeno bullismo nella scuola superiore.
NAME OF THE REVIEWING ORGANISATION
:
don Milani
I Am Not Scared Project
Copyright 2022 - This project has been funded with support from the European Commission
Webmaster: Pinzani.it