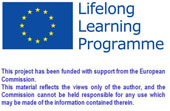 "I Am Not Scared" Project
Homepage > Database > Publication List
Database
TITLE OF DOCUMENT
:
Il contrasto e la prevenzione del bullismo nella scuola media superiore: linee guida e strumenti operativi.
NAME OF AUTHOR(S)
:
Darbo M. (a cura di)
NAME OF PUBLISHER
:
Promeco
LANGUAGE OF DOCUMENT
:
Italian
LANGUAGE OF THE REVIEW
:
Italian
KEYWORDS
:
Bibliografia – buone pratiche – adolescenti – sensibilizzazione - interventi
TARGET GROUP OF PUBLICATION
:
Parents, Policy Makers, Teachers, Researchers, Young People, School Directors.

SIZE OF THE PUBLICATION
:
21 - 100 pages
DESCRIPTION OF CONTENTS
:
La prima parte del libro consiste nella definizione del fenomeno; la seconda nei principi di fondo, obiettivi e metodologie per un lavoro di prevenzione e intervento sul bullismo; la terza nelle indicazioni operative riguardanti le aree di progetto, ricerca e intervento; la quarta in esempi di intervento. Segue una bibliografia generale.
REVIEWER'S COMMENTS ON THE DOCUMENT
:
Questo quaderno vuole essere il resoconto del lavoro fin'ora svolto da Promeco, che si occupa di bullismo dal 1995, quando ha organizzato i primi corsi di sensibilizzazione sul fenomeno.
NAME OF THE REVIEWING ORGANISATION
:
don Milani
I Am Not Scared Project
Copyright 2022 - This project has been funded with support from the European Commission
Webmaster: Pinzani.it