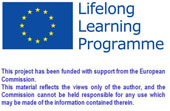 "I Am Not Scared" Project
Homepage > Database > Publication List
Database
TITLE OF DOCUMENT
:
Violencia escolar: Claves para comprenderla y afrontarla.
NAME OF AUTHOR(S)
:
R. Del Rey y R. Ortega.
NAME OF PUBLISHER
:
Escuela abierta, 10, 77-89, 2007.
LANGUAGE OF DOCUMENT
:
Spanish
LANGUAGE OF THE REVIEW
:
Spanish
KEYWORDS
:
Violencia escolar, bullying, convivencia, intervención, prevención
DOCUMENT TYPOLOGY
:
Research
DESCRIPTION OF CONTENTS
:
En este artículo presentan una breve síntesis sobre la naturaleza de la los fenómenos de violencia escolar y sobre las claves para abordarlos a través de la construcción de la convivencia para dar respuesta a la preocupación tanto de la comunidad educativa como de la sociedad en general sobre los episodios de violencia de los centros educativo.
REVIEWER'S COMMENTS ON THE DOCUMENT
:
Este artículo destaca por tratar de ofrecer un acercamiento a la naturaleza de los fenómenos de violencia escolar, así como intervenciones para abordarlos y claves que permitan construir un clima de convivencia. El problema de la violencia escolar de los centros educativos que se ha convertido en una necesidad prioritaria en relación a los procesos instruccionales.

NAME OF THE REVIEWING ORGANISATION
:
Universidad de Sevilla
I Am Not Scared Project
Copyright 2022 - This project has been funded with support from the European Commission
Webmaster: Pinzani.it