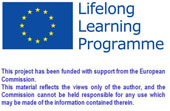 "I Am Not Scared" Project
Homepage > Database > Publication List
Database
TITLE OF DOCUMENT
:
Bullies and arrogant people at school. Prevention and upbringing techniques.
NAME OF AUTHOR(S)
:
Sharp S.
NAME OF PUBLISHER
:
Centro Studi Erickson
LANGUAGE OF DOCUMENT
:
Italian
LANGUAGE OF THE REVIEW
:
English
KEYWORDS
:
Psychology – upbringing – good practices - adolescents - school
TARGET GROUP OF PUBLICATION
:
Parents, Policy Makers, Teachers, Researchers, Young People, School Directors.

SIZE OF THE PUBLICATION
:
Over 100 pages
DESCRIPTION OF CONTENTS
:
The book shows a series of strategies to face school bullying. It gives information about the nature and cause of abuse among peers, it describes some techniques for the analysis of the phenomenon, it explains how to plan a proper screening, it presents a general policy to reduce and face bullying; it analyses carefully a wide range of intervention strategies related to specific areas of school life.
REVIEWER'S COMMENTS ON THE DOCUMENT
:
The writer offers a wide variety of practices for the prevention of bullying in high schools.
NAME OF THE REVIEWING ORGANISATION
:
don Milani
I Am Not Scared Project
Copyright 2022 - This project has been funded with support from the European Commission
Webmaster: Pinzani.it