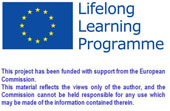 "I Am Not Scared" Project
Homepage > Database > Publication List
Database
TITLE OF DOCUMENT
:
Violența în școală – Metode de prevenire
NAME OF AUTHOR(S)
:
Aurelia Nae
NAME OF PUBLISHER
:
Interferențe în educație
LANGUAGE OF DOCUMENT
:
Romanian
LANGUAGE OF THE REVIEW
:
Romanian
KEYWORDS
:
Violența în școală
DOCUMENT TYPOLOGY
:
Web Article
TARGET GROUP OF PUBLICATION
:
Parents, Teachers, School Directors.

SIZE OF THE PUBLICATION
:
1 - 20 pages
DESCRIPTION OF CONTENTS
:
În cadrul acestui articol autoarea încearcă să evidențieze câteva metode eficiente prin intermediul cărora să se combată violența școlară. În primul rând autoarea militează pentru o politică hotătâtă de combatere a violenței sociale și de educare a adulților. Alături de această măsură multe altele sunt prezentate pe larg în cuprinsul articolului.
Gândul de încheiere este că violența nu trebuie tolerată și promovată.

REVIEWER'S COMMENTS ON THE DOCUMENT
:
Violența în școală este o realitate pe care n-o putem nega și nici neglija. Lucrul cel mai important este să găsim metode eficiente de combatere a violenței, de orice fel ar fi ea, pentru că altfel acest fenomen se va croniciza și va fi greu de stăpânit în contextul societății actuale.
Tocmai acest lucru se încearcă în cuprinsul acestui articol, găsirea unor metode eficiente pentru a combate acest flagel.

NAME OF THE REVIEWING ORGANISATION
:
EuroEd Foundation
I Am Not Scared Project
Copyright 2023 - This project has been funded with support from the European Commission
Webmaster: Pinzani.it