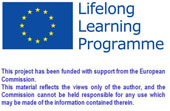 "I Am Not Scared" Project
Homepage > Database > Publication List
Database
TITLE OF DOCUMENT
:
Violența în școală – Metode de prevenire
NAME OF AUTHOR(S)
:
Aurelia Nae
NAME OF PUBLISHER
:
Interferențe în educație
LANGUAGE OF DOCUMENT
:
Romanian
LANGUAGE OF THE REVIEW
:
English
KEYWORDS
:
Violence in schools
DOCUMENT TYPOLOGY
:
Web Article
TARGET GROUP OF PUBLICATION
:
Parents, Teachers, School Directors.

SIZE OF THE PUBLICATION
:
1 - 20 pages
DESCRIPTION OF CONTENTS
:
In this article the author tries to highlight some effective methods through which we can combat violence in schools. First, the author advocates a policy of combating social violence and adult education. Alongside these measures, there are many others, fully described in the contents of this article.
The final thought of the author is that violence cannot be tolerated and promoted.

REVIEWER'S COMMENTS ON THE DOCUMENT
:
Violence in schools is a reality we can't deny or neglect. The most important thing is to find effective ways to combat violence of any kind, otherwise it will become chronic. This phenomenon will be unmanageable in the context of the contemporary society.
Particularly this is the thing that is tried in this article, finding effective ways to combat this scourge.

NAME OF THE REVIEWING ORGANISATION
:
EuroEd Foundation
I Am Not Scared Project
Copyright 2023 - This project has been funded with support from the European Commission
Webmaster: Pinzani.it