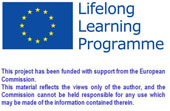 "I Am Not Scared" Project
Homepage > Database > Publication List
Database
TITLE OF DOCUMENT
:
Violența în școală
NAME OF AUTHOR(S)
:
Mihaela-Theodora Popescu
NAME OF PUBLISHER
:
www.infoterapii.ro
LANGUAGE OF DOCUMENT
:
Romanian
LANGUAGE OF THE REVIEW
:
Romanian
KEYWORDS
:
Violența în școală
DOCUMENT TYPOLOGY
:
Web Article
TARGET GROUP OF PUBLICATION
:
Parents, Teachers, School Directors.

SIZE OF THE PUBLICATION
:
1 - 20 pages
DESCRIPTION OF CONTENTS
:
În România cea mai răspândită formă de violență școlară este violența verbală. Ea nu ete percepută în același mod de elevi și profesori, unii o minimalizează pe când alții o supraevaluează. S-a amplificat foarte mult violența în rândul elevilor.
În literatura de specialitate violența școlară este asociată cu periferiile orașelor,acolo unde sărăcia și promiscuitatea nu mai sunt o noutate.
Se consideră ca factori favorizanți, câțiva factori exteriori școlii: mediul familial, mediul social și factorii care țin de personalitatea fiecărui individ.

REVIEWER'S COMMENTS ON THE DOCUMENT
:
Acest articol pune accent pe faptul că profesorul singur nu poate rezolva această problemă, mai ales dacă la originea unui astfel de comportament violent stă o boală psihică. De cele mai multe ori este necesară participarea unei întregi echipe formată din părinți, medic școlar, psiholog, un medic specialist și nu în ultimul rând profesorul diriginte.
NAME OF THE REVIEWING ORGANISATION
:
EuroEd Foundation
I Am Not Scared Project
Copyright 2023 - This project has been funded with support from the European Commission
Webmaster: Pinzani.it