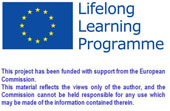 "I Am Not Scared" Project
Homepage > Database > Publication List
Database
TITLE OF DOCUMENT
:
Violența în școli, o formă de violență modernă!
NAME OF AUTHOR(S)
:
Thomas Csinta
NAME OF PUBLISHER
:
www.edux.ro
LANGUAGE OF DOCUMENT
:
Romanian
LANGUAGE OF THE REVIEW
:
Romanian
KEYWORDS
:
Violența în școli
DOCUMENT TYPOLOGY
:
Web Article
TARGET GROUP OF PUBLICATION
:
Parents, Teachers, School Directors.

SIZE OF THE PUBLICATION
:
1 - 20 pages
DESCRIPTION OF CONTENTS
:
În cuprinsul articolului de față autorul prezintă în special situația din Franța în ceea ce privește violența școlară. Înafară de acest aspect, vedem că autorul insistă și pe rapoarte internaționale și astfel se face legătura cu România. Legătura se realizează deoarece România este situată pe primele locuri la nivel mondial.
Ca regulă generală, cei care suportă acte de cruzime din partea colegilor sunt tineri anxioși, fără protecție, persoanele sensibile, tăcute etc.
Agresorii sunt elevi care își manifestă deseori furia nu numai asupra profesorilor, dar și a părinților.

REVIEWER'S COMMENTS ON THE DOCUMENT
:
Articolul de față este important prin prisma faptului că pe lângă relatarea situației cu care se confruntă Franța este prezentată și situația faptică a României.
Totul este tratat cu foarte mare detașare și obiectivism, mai ales pentru că autorul nu este român.
Relatările și măsurile de combatere a violenței sunt demne de ținut minte și de aplicat.

NAME OF THE REVIEWING ORGANISATION
:
EuroEd Foundation
I Am Not Scared Project
Copyright 2023 - This project has been funded with support from the European Commission
Webmaster: Pinzani.it