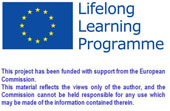 "I Am Not Scared" Project
Homepage > Database > Publication List
Database
TITLE OF DOCUMENT
:
Violența în școli, o formă de violență modernă!
NAME OF AUTHOR(S)
:
Thomas Csinta
NAME OF PUBLISHER
:
www.edux.ro
LANGUAGE OF DOCUMENT
:
Romanian
LANGUAGE OF THE REVIEW
:
English
KEYWORDS
:
Violence in schools
DOCUMENT TYPOLOGY
:
Web Article
TARGET GROUP OF PUBLICATION
:
Parents, Teachers, School Directors.

SIZE OF THE PUBLICATION
:
1 - 20 pages
DESCRIPTION OF CONTENTS
:
Throughout the present article the author describes the situation in France in the terms of school violence. Apart from this, we see that the author highlights some international reports and thus makes the connection with Romania. The connection is made because Romania is situated in the first places in the world when it comes to school violence.
As a general rule, those who bear the cruelty of their violent colleagues are anxious, without protection, sensitive and silent persons.
The aggressors are students who often express anger not only on teachers but also on their parents.

REVIEWER'S COMMENTS ON THE DOCUMENT
:
This article is important in light of the fact that besides the account of the situation that France is facing it presents the factual situation of Romania too.
Everything is treated with great detachment and objectivity, especially since the author it's not Romanian.
The reports and the possible measures for combating violence are worthy to remember and put in practice.

NAME OF THE REVIEWING ORGANISATION
:
EuroEd Foundation
I Am Not Scared Project
Copyright 2023 - This project has been funded with support from the European Commission
Webmaster: Pinzani.it