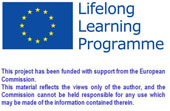 "I Am Not Scared" Project
Homepage > Database > Publication List
Database
TITLE OF DOCUMENT
:
School violence. Prevention strategies.
NAME OF AUTHOR(S)
:
R. Ortega y R. Del Rey
NAME OF PUBLISHER
:
Barcelona: Graó, 2003.
LANGUAGE OF DOCUMENT
:
Spanish
LANGUAGE OF THE REVIEW
:
English
KEYWORDS
:
COEXISTENCE, CONFLICT, EDUCATION STRATEGIES, SCHOOLS.
TARGET GROUP OF PUBLICATION
:
Researchers.

SIZE OF THE PUBLICATION
:
Over 100 pages
DESCRIPTION OF CONTENTS
:
This book presents a conceptual framework for understanding interpersonal relations problems that may set out in the school, as well as a range of educational strategies for its prevention through mediation and dialogue. Analyze the school as a complex ecosystem, considering aspects such as motivation, conflict, aggression or lack of discipline. Based on the dialogue as a key tool to meet the difficulties generated by daily living together, in hallways, playground and classrooms.
REVIEWER'S COMMENTS ON THE DOCUMENT
:
This book stands out by introducing a wide range of alternatives that are based psychoeducational and autonomous cooperative work of teachers so that they, whoever they design their own resources to the exploration, diagnosis and intervention of problems resulting from the coexistence in schools.
NAME OF THE REVIEWING ORGANISATION
:
University of Seville
I Am Not Scared Project
Copyright 2022 - This project has been funded with support from the European Commission
Webmaster: Pinzani.it