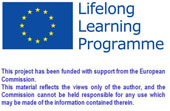 "I Am Not Scared" Project
Homepage > Database > Publication List
Database
TITLE OF DOCUMENT
:
Construir la convivencia.
NAME OF AUTHOR(S)
:
R. Ortega y R. del Rey.
NAME OF PUBLISHER
:
Barcelona: EDEBE, 2004.
LANGUAGE OF DOCUMENT
:
Spanish
LANGUAGE OF THE REVIEW
:
Spanish
KEYWORDS
:
Convivencia, compartir, emociones, empatía.
TARGET GROUP OF PUBLICATION
:
Researchers.

SIZE OF THE PUBLICATION
:
Over 100 pages
DESCRIPTION OF CONTENTS
:
En este libro se analizan los elementos que componen la convivencia en los centros educativos y se ofrecen pautas para llevarlas a cabo en clase. Convivir implica compartir un espacio físico pero también un sistema de convenciones y normas que faciliten la vida en común. Desde este enfoque, se concibe la convivencia teniendo en cuenta sentimientos y emociones relacionados con la empatía y la aceptación de los demás.
REVIEWER'S COMMENTS ON THE DOCUMENT
:
Este libro es de especial relevancia por ofrecer un trabajo práctico que orienta a la comunidad educativa a desarrollar la convivencia basada en los principios de aprender a conocer, aprender a hacer, aprender a ser, y aprender a vivir juntos y vivir con los demás. Los escolares emplean mucho tiempo y esfuerzo en dominar tareas cognitivas, sociales y emocionales, sin embargo, las cognitivas son las que más dedicación obtienen por parte del profesorado. La educación para la convivencia implica una dedicación en tiempo y recursos también en las tareas emocionales y afectivas, que rodean a los escolares entre sí y con sus maestras y maestros en su vida diaria.
NAME OF THE REVIEWING ORGANISATION
:
Universidad de Sevilla
I Am Not Scared Project
Copyright 2022 - This project has been funded with support from the European Commission
Webmaster: Pinzani.it