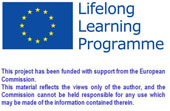 "I Am Not Scared" Project
Homepage > Database > Publication List
Database
TITLE OF DOCUMENT
:
Galiu padėti savo vaikui
NAME OF AUTHOR(S)
:
Žydrė Arlauskaitė
NAME OF PUBLISHER
:
UAB "Sapnų sala"
LANGUAGE OF DOCUMENT
:
Lithuanian
LANGUAGE OF THE REVIEW
:
Lithuanian
KEYWORDS
:
padėti, smurtas
SIZE OF THE PUBLICATION
:
21 - 100 pages
DESCRIPTION OF CONTENTS
:
Knygelė tėvams apie smurtą prieš vaikus, kurioje aprašytos smurto rūšys, kaip atpažinti, kad prieš vaiką yra naudojamas smurtas.
Supažindinama, kokie žmonės smurtauja, kokius veiksmus naudoja vaikai, kur kreiptis ir kam teikti profesionalią pagalbą.
REVIEWER'S COMMENTS ON THE DOCUMENT
:
Tai dar viena vertinga knyga smurto ir agresijos tema. Autorė skatina tėvus patikėti, kad jie yra svarbiausieji žmonės, galintys daugiausiai padėti savo vaikui bei suteikia jiems vertingus įrankius, leidžiančius tai padaryti. Pirmiausia – kaip pamatyti ir atpažinti, kad prieš Jūsų vaiką naudojamas smurtas? Kokie būna vaikų naudojami smurto veiksmai? Kas yra reikalingi pagalbos? Kaip padėti smurto aukoms ir patiems smurtautojams? Kokių konkrečių veiksmų imtis? Ką daryti, jei sužinojote, kad Jūsų vaikas smurtauja? Kokie yra svarbiausi profesionalios, sisteminės pagalbos šaltiniai? Kur jos galima kreiptis?

NAME OF THE REVIEWING ORGANISATION
:
Kauno technologijos universitetas
I Am Not Scared Project
Copyright 2023 - This project has been funded with support from the European Commission
Webmaster: Pinzani.it