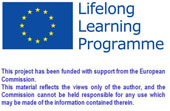 "I Am Not Scared" Project
Homepage > Database > Publication List
Database
TITLE OF DOCUMENT
:
Bullying into schools
NAME OF AUTHOR(S)
:
Efhbos (Teenager)
NAME OF PUBLISHER
:
Dromos
LANGUAGE OF DOCUMENT
:
Greek
LANGUAGE OF THE REVIEW
:
English
KEYWORDS
:
Teenager, Bullying, Self-organization
DOCUMENT TYPOLOGY
:
Newspaper / Magazine article
TARGET GROUP OF PUBLICATION
:
Young People.

SIZE OF THE PUBLICATION
:
1 - 20 pages
DESCRIPTION OF CONTENTS
:
A description of the term "Bullying" is initially attempted, followed by a description of the forms the phenomenon might take. The writer, then, focuses on the emotional situation of victims. He is paying particular attention to psychosomatic symptoms of the victim. On that context there is reference on the victim's inability to stay alone or look into the eyes of those they discuss with. Victors on the other hand seem to have problematic behavior on all observed levels. That is not due to no cause though. Most of them hide pain and loneliness under the cold face they present to others. That does not protect them at all from the racism trap, in which they may easily fall in. The phenomenon of Bullying tends to follow an increasing trend at the era of globalization. School seems rather unable if not indifferent to react to Bullying. It is characteristically mentioned, that teachers are observed to occupy themselves more with a noisy student than a violent one, avoiding that way the difficult tasks. On the other hand police-led tactics do not provide a solution for a school. The solution promoted is one of students as those who will resolve the issue through taking the step of recognition and sentencing the behavior of bullies. On a second step they shall get democratically organized and isolate bullies.
REVIEWER'S COMMENTS ON THE DOCUMENT
:
That's doubtlessly a valuable contribution of a 16year old actively student to the issue under discussion. Writing on a spontaneous way he communicates to us all the thoughts of a teenager for the phenomenon. He is justified to address to his coevals as he does. His reference particularly to emotions, psychology and psychosomatic symptoms of victims is not accidental. He seems to be one who has experienced Bullying incidents in his school unit and thus provides his interpretation of the profiles of bullies and victims, revealing how teachers are not as drastic as they should when dealing with Bullying. He is definitely demanding from everyone, but he is more than that. He is demanding, parallel to offering himself as a volunteer, announcing himself as one of those responsible for the existence of the phenomenon. He states indeed that only students may resolve the problem by not being tolerant towards it. This particular ending of his sounds hopeful – not necessarily cause solving this problem is a job for students alone – rather cause it's rare to have someone set students co-responsible for the existence of the problem and doubtlessly students are the central ring on the chain of those who shall work on resolving the issue, as students are willingly or unwillingly the protagonists of school Bullying.
NAME OF THE REVIEWING ORGANISATION
:
ASPETE
I Am Not Scared Project
Copyright 2022 - This project has been funded with support from the European Commission
Webmaster: Pinzani.it