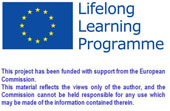 "I Am Not Scared" Project
Homepage > Database > Publication List
Database
TITLE OF DOCUMENT
:
Zwischen "Bullying" und "Rough and Tumble Play"
NAME OF AUTHOR(S)
:
Hans Oswald
NAME OF PUBLISHER
:
Landau: Verlag Empirische Pädagogik 1997
LANGUAGE OF DOCUMENT
:
German
LANGUAGE OF THE REVIEW
:
German
KEYWORDS
:
Gewalt, Bullying
DOCUMENT TYPOLOGY
:
Research
TARGET GROUP OF PUBLICATION
:
Teachers, Researchers, School Directors.

SIZE OF THE PUBLICATION
:
1 - 20 pages
DESCRIPTION OF CONTENTS
:
Diese Studie nutzte als Grundlage den vielfach angewandten Bully-Victim-Questionnaire von Dan Olweus und ermittelte das Ausmaß an deutschen Schulen, welches sich von den Ergebnissen der Untersuchungen Olweus' unterscheidet.
Des Weiteren untersucht diese Studie die Einflüsse der Kontexte Eltern, Peers und Schule auf Gewalttaten, auch auf jene die sich gegen Lehrer richten.
Neben der Fragebogenerhebung werden Ergebnisse einer qualitativen Beobachtungsstudie wiedergegeben, in denen Sanktionen auf Normbrüche und Kampf und Tobespiele (rough and tumble play) analysiert wurden.

REVIEWER'S COMMENTS ON THE DOCUMENT
:
Dieser Artikel analysiert spielerische Rauf- und Tobespiele und deren Grenzen zu körperlichen Aggressionen, die als Gewalt angesehen werden müssen. Dieser Artikel verdeutlicht trotz der Gefahr von Gewalt und Bullying, dass es wichtig ist Kinder und Jugendliche in ihrer natürlichen Entwicklung nicht zu beschneiden und dass Raufspiele ein Teil dieser Entwicklung sein können und dürfen.
NAME OF THE REVIEWING ORGANISATION
:
Zepf
I Am Not Scared Project
Copyright 2023 - This project has been funded with support from the European Commission
Webmaster: Pinzani.it