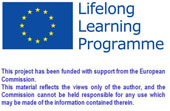 "I Am Not Scared" Project
Homepage > Database > Publication List
Database
TITLE OF DOCUMENT
:
Maybe my child is bullied at school or offended?
NAME OF AUTHOR(S)
:
Juozas Vyšniauskas
NAME OF PUBLISHER
:
Editorial office of magazine "Mūsų žodis"
LANGUAGE OF DOCUMENT
:
Lithuanian
LANGUAGE OF THE REVIEW
:
English
KEYWORDS
:
Bullying, school, parents
DOCUMENT TYPOLOGY
:
Web Article
TARGET GROUP OF PUBLICATION
:
Parents, Policy Makers.

SIZE OF THE PUBLICATION
:
1 - 20 pages
DESCRIPTION OF CONTENTS
:
Whether a child is being bullied at school should be an issue of concern to all parents, without exception. Especially those who doesn't talk with their children about it or about how they are doing. Those who are not concerned about the whole school life.
REVIEWER'S COMMENTS ON THE DOCUMENT
:
Emphasis is put on public neglect of children problems in school life, parents' lack of interest in their children's lives, wrong education policy not only in terms of the subject of bullying, but mainly about the teacher's position - respect in the classroom.
NAME OF THE REVIEWING ORGANISATION
:
KTU
I Am Not Scared Project
Copyright 2023 - This project has been funded with support from the European Commission
Webmaster: Pinzani.it